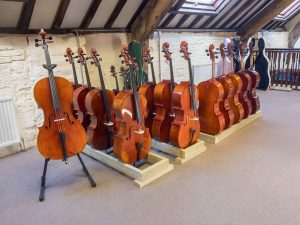 Welcome to our cello shop. Here you will find and can buy everything cello related from endpin anchors to cello cases. Including new and old cellos setup meticulously by our luthier. All for sale at the best possible prices.
We have a huge range of Cello Strings in our Cello shop, from most manufacturers, in stock. We operate a free string fitting service in store; we will fit the strings you buy from us onto your cello while you wait.
In addition to our cello sales, we have a cello hire and rental scheme for long term student rental and short term professional hire.
We are here to help if you can't find something or have any cello product related questions you can contact one of our cello experts by telephone on 01332 840391 or email us using our contact page.