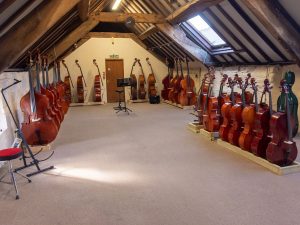 Your Symphony of Double Bass Selections
Welcome to our Double Bass Shop, where we harmonise the love for music with the passion for quality. Our shop is a symphony of double basses, from the petite 1/10 size to the grand full-size instruments. We cater to the needs of both budding musicians and seasoned professionals, offering a diverse range of basses that resonate with your musical aspirations.
The Art of Double Bass Craftsmanship
Our double basses are not just instruments; they are a testament to the art of craftsmanship. Each bass is meticulously set up by our skilled luthier, ensuring that every note you play is a testament to your talent. From the carved upright basses for the traditionalist to the hybrid basses for the modernist, our selection is as diverse as the music you create.
More Than Just a Double Bass Shop
Beyond our range of double basses, we offer a comprehensive collection of accessories to enhance your playing experience. From double bass stools that provide comfort during long practice sessions to rosin that ensures smooth bowing and mutes that allow for nuanced sound control, our shop is a one-stop solution for all your double bass needs. Not to forget, we also stock a wide range of double bass strings, catering to all models and levels of playing.