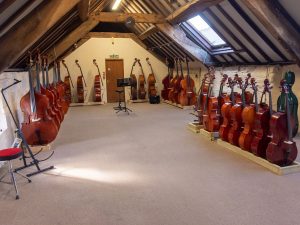 Welcome to our Double Bass shop. Here you can find new double basses for sale, new and used, strings, and accessories. Essentially everything double bass related in one place.
"Everything Double Bass all in one place, and in stock."
Additionally, we also have a Double Bass Hire and Rental Service catering for students and professionals alike. We can provide fully carved, Hybrid and Laminate basses on hire for periods as short as one day and up to open-ended student hire.
With basses from 1/10 size upwards we can provide bass hire for children also.
Our stock of double basses whether for sale or hire are all setup meticulously by our luthier; this is what sets us in contrast with other retailers. In the first place, we know that you'll want to try a bass before buying it, so every bass advertised is in stock and available for customers to try at our central UK location near Derby.
We are a one-stop double bass shop, stocking a huge range of products, accessories, and gifts for bassists, including:
Strings, Stools, Rosin, Pickups, Amplification, Stands, Quivers, Bows, Endpin stops and anchors, Cases, Bags, Wheels, and Tuners.
If you can't find what you're looking for or just need some advice on what to buy, please don't hesitate to get in touch. As a small family company, we are always happy to help; we know our products, and we're only a phone call away on 01332 840391.