The Jay Haide 101 model double bass is fully carved and hand-made of quality seasoned maple and spruce by Jay Haide. It has a tone quality and workmanship normally found in more expensive instruments.
The photos of this bass are of the actual instrument and not stock photos.
Jay Haide 101 model double basses arrive with us in an unfinished state so that we can choose the best fittings and perform the setup that we are renowned for. During our setup of this bass, we have carried out the following work: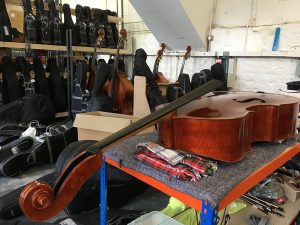 Fitted Rubner machine heads as an upgrade from the stock machine heads usually supplied with the Jay Haide double basses.
Reshaped the top nut.
Shoot the fingerboard.
Fitted a grade 'A' quality adjustable bridge. These bridges are made adjustable in house by our luthier to ensure the best possible quality.
Fitted an Ulsa Solitär ebony endpin unit.
Fitted a quality ebony tailpiece and steel rope tailwire.
Refitted the soundpost.
Fitted Evah Pirazzi medium strings.
Having had such a comprehensive setup, this bass represents one of the best value for money new basses on the market today.
The Jay Haide 101 Model double bass is available to view/try at our Derbyshire Location.
Although we have fitted Evah Pirazzi medium strings to this Jay Haide double bass, other string options are available and can be fitted while you wait. We also have a range of pickups that can be installed should you choose, again while you wait. The sales price is for instrument only. However, we have a range of cases to fit and a huge stock of accessories.